Nutrition and Weight Loss in North York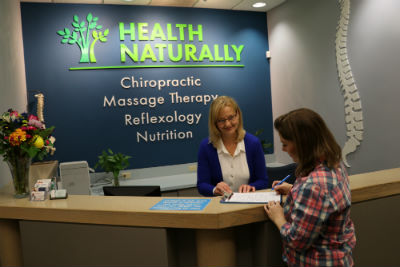 We are pleased to have Joanne Mesec, a nutritionist and certified Metabolic Balance Coach, on our staff to assist you with meeting your goals for weight loss and improved overall health. Joanne is available, by appointment, to meet with you to discuss nutritional health and weight loss concerns, and to work with you to ensure your needs are met. You'll discuss how diet, lifestyle and supplementation can balance your system and improve your health.
Metabolic Balance®
Joanne facilitates the Metabolic Balance® weight loss program in our office. She starts by taking a detailed history of your health, including your medications and your food preferences. You'll also be sent for blood work to provide additional information about your current health. This information is compiled and processed to determine your individualized profile for weight loss.
The program incorporates an all-natural, wholesome diet based on real food. You'll enjoy high-quality, low-glycemic foods. You'll shop at your regular grocery store for everything you need, and there's no supplementation required. Your program is focused on bringing your individual health back into balance and equalizing your metabolism as much as it is about weight loss. At City Centre Health Clinic, it is not one size fits all. It is a health-enhancing program that targets the specific nutrients you need for regrowth and repair.
Four Phases
The Metabolic Balance® program is broken down into four phases, each with a different focus.
Two-day Cleanse: Each day, you'll eat a healthy breakfast, lots of vegetable and a magnesium solution designed to cleanse your bowels and prepare you for successful weight loss.
14-day Program: This period is when you will lose the most weight. You'll eliminate oils from your diet and focus your eating on specific low-glycemic foods recommended specifically for you while following eight simple, easy-to-follow rules. After 14 days, specific oils will be re-introduced, and you will continue on this phase until your weight-loss goal has been achieved.
Stabilization: You'll continue to eat a well-balanced diet, focusing on the foods specifically recommended for you, but you'll begin adding other foods back into your diet.
Maintenance: You'll work to sustain your positive results!
If you, or anyone else, require more specific nutritional counseling, please contact our office to book an appointment with Joanne. Learn more about how you can shed unwanted pounds and bring your health back into balance using the Metabolic Balance® system. We're ready to get you started!
CONTACT US »

Nutrition & Weight Loss North York | (416) 226-4950