Welcome to City Centre Health Clinic!
City Centre Health Clinic is part of a multidisciplinary clinic located in the North York City Centre. We have a large sign posted outside our chiropractic care centre to let you know you are in the right place.
Your First Visit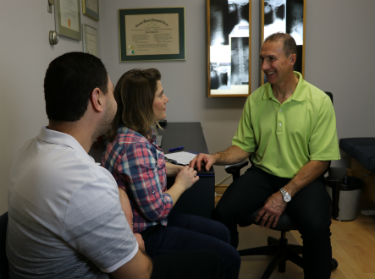 Joanne will greet you as you arrive for your first appointment with Dr. Weyrauch. If you haven't already printed and completed your new patient paperwork at home, we can help you with it while you're here.
NEW PATIENT PAPERWORK »

Once your New Patient Paperwork is finished, Joanne will lead you back to the exam room to perform a preliminary test known as surface electromyography or sEMG. This test reveals information about the activity of your muscles and underlying SUBLUXATION. Joanne will provide Dr. Weyrauch your health history questionnaire and the results of your sEMG for his review.
Dr. Weyrauch will introduce himself and explain the details of your exam. Together you'll discuss your health history, and you can describe your current condition and health concerns. Once Dr. Weyrauch has an intimate understanding of your condition and how its adversely affecting your life, he will then begin your physical examination to determine the root cause of your condition. Specifically, Dr. Weyrauch will be looking for areas of the nervous system that are subluxated or irritated. If necessary, he'll provide you with an X-ray requisition form to take to a nearby facility and have your X-rays taken.
If your condition is especially acute, Dr. Weyrauch will ensure you have some symptom relief at this first visit. A chiropractic adjustment or other healing modality may be given.
Your Second Visit
After your first visit, Dr. Weyrauch will review your history and his notes from your exam. If X-rays were taken, he'll review those as well. When you return for your second appointment, Dr. Weyrauch will take the time to review with you all his findings, explain the cause of your problem, discuss how he can fix it and what's involved in the process. During this visit, Dr. Weyrauch also will discuss the essentials of nutrition and specific exercise necessary for your healing. To complete this appointment, you will receive your first adjustment to begin restoring your body's innate healing capacity.
Ongoing Care
Moving forward, your visits will last only about 15 minutes. You'll warm up with some exercises or in-office traction before you receive your hands-on assessment and adjustment. Dr. Weyrauch will use a combination of various methods to ensure that all your problems are addressed. You can expect to feel noticeably better when you leave!
Patient Education
You'll learn a lot about your body and your care during your first few visits with us. Throughout your care, Dr. Weyrauch will explain his findings and tell you how you can best contribute to your healing. He'll emphasize information about your specific problem areas and your learning will be reinforced at each visit.
Get started today!
City Centre Health Clinic is here to acheive your health goals. We offer a variety of services, including chiropractic Care, massage therapy, reflexology, and nutrition & weight loss, to get you where you want to be. Contact us today to get started!
CONTACT US »

City Centre Health Clinic | (416) 226-4950