About Us
We are Here for You!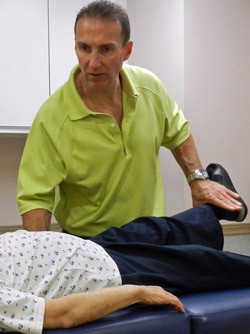 Dr. David Weyrauch prides himself in being EXPERIENCED, KNOWLEDGEABLE, SKILLED and CONSCIENTIOUS. He graduated in 1986 and since then has accumulated 30 years of experience in a multitude of conditions which he has helped patients through.
Dr. Weyrauch's goal is to help you get your LIFE BACK. All too often painful conditions keep us from participating in life to its fullest. Let Dr. Weyrauch show you what's necessary to restore your life to the one you once knew.
Chronic health problems are often complex and therefore, not easily resolved. What makes Dr. Weyrauch special is a relentless desire to continually investigate your condition on each visit to always take the best course of action to ultimately restore your body. His genuine and sincere sense of caring is what fuels his passion in this healing art.
Why Chiropractic?
Because it is Natural! Nothing In and Nothing Out!
Chiropractors work to restore your body's natural ability to heal itself. This is accomplished by locating and correcting a condition known as subluxation.
SUBLUXATION is associated with irritation or damage to the nervous system. The job of the nervous system is to keep all tissues of the body healthy and heal any part of the body when a problem arises.
Persistent or recurring pain or discomfort is a sign that you may be suffering from SUBLUXATION.
Get on the Path to Feeling Great!
You don't need to live with pain and unwanted symptoms. Contact our chiropractic office today to schedule a consultation free of charge to meet Dr. Weyrauch and ask questions. Dr. Weyrauch will determine if you have a problem that he can help.
MEET DR. WEYRAUCH »

About City Centre Health Clinic | (416) 226-4950