Massage Therapy in North York
What is Massage Therapy?
Massage Therapy is the assessment and manipulation of soft tissues and joints of the body to effect a therapeutic response in the treatment and prevention of physical dysfunction. At City Centre Health Clinic, massage therapy helps to alleviate soft tissue discomfort associated with body stress, muscular overuse inflammation, and many chronic pain syndromes. Part of the therapeutic process involves an active partnership between the client and Massage Therapist, working as a team toward a common goal. During treatment, various techniques are used and loosen connective tissue and muscles. This increases function and range of motion thereby reducing muscle tension.
Treatment Services
Traditional Swedish Massage
Deep-tissue Massage
Infant Massage
Pre- and post-natal care
Post-surgery care
Acute and chronic injuries
Headaches and migraines
Sprains, strains and tendinitis
Manual Lymphatic Drainage
Sports injuries
Advanced relaxation techniques

Jessica Jaffey, Registered Massage Therapist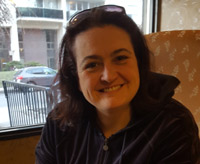 Jessica passionately believes in the therapeutic benefits of Massage Therapy, and her goal is to help all her clients reach their optimal level of health and wellness, and then keep them there! Jessica is a skilled therapist, treating clients with conditions ranging from Multiple Sclerosis, spinal conditions, and sports injuries to pregnancy, and the wear and tear of daily life. Especially experienced in treating "the computer curve" (a term she invented to cover the upper back, neck, and shoulders so affected by the computer age), low back conditions, and the extremities. Jessica is also pursuing accreditation in Integrated Lymphatic Drainage, currently holding a Level Two Certificate. This enables her to provide an even more well-rounded treatment plan for her clients. Lymphatic Drainage is very effective for swelling, inflammation, and pain relief (ie: post-surgery).

Caroline Seto, Registered Massage Therapist
Caroline is passionate about helping others through her healing touch. Caroline has been practicing for 13 years where she has had excellent results treating a variety of conditions, particularly sciatic pain, headaches, tennis elbow, and many others. Caroline has a keen interest in all aspects of massage therapy and is continuously updating her techniques through ongoing studies. She is currently working on her cranial sacral therapy certification. This will provide Caroline with an advanced technique that will be used in conjunction with standard massage therapy to provide optimum results.
Caroline welcomes you and looks forward to helping you through her healing hands.


Massage Therapy North York | (416) 226-4950